AMOpportunities recently introduced "Add to Itinerary," a new feature on our user platform. This feature allows users to link multiple applications together into an "itinerary." Once users have set their itinerary, they will be able to apply and pay for applications all in one spot. The itinerary feature also allows applicants to manage rotations, including uploading required program documents, simultaneously.
Below is everything you need to know to get started using this new feature.
What is "Itinerary"
"Add to Itinerary" is a new feature on the AMO user platform that allows you to group multiple U.S. clinical experiences together into an "itinerary." Once your itinerary is set, you will be able to apply to each program on your itinerary simultaneously. Your spot in each program will also be reserved. Whether you're booking programs back-to-back or months apart, the seat is yours once your itinerary is finalized. All that's left for you to do is prepare.
Previously, if you wanted to book multiple rotations, you would have to upload each program's required documents individually across different pages. Typically this meant uploading the same document in multiple places, navigating a tedious back-and-forth process across multiple browser tabs. With the new "Add to Itinerary" documents uploaded to your application page are automatically applied to all relevant applications requesting the uploaded document.
One file. One spot. One upload.
How do I use "Add to Itinerary"
To use the "Add to Itinerary" feature, begin by selecting a program to which you would like to apply. For this example, we'll start with Cardiology at Holy Cross Hospital.
On the program page, select your experience type and rotation dates from the "Type" and "Start Date" drop-down menus indicated by the black arrows on the image below. For this program, we'll do an Observership experience type that runs from February 7, 2022 to March 4, 2022.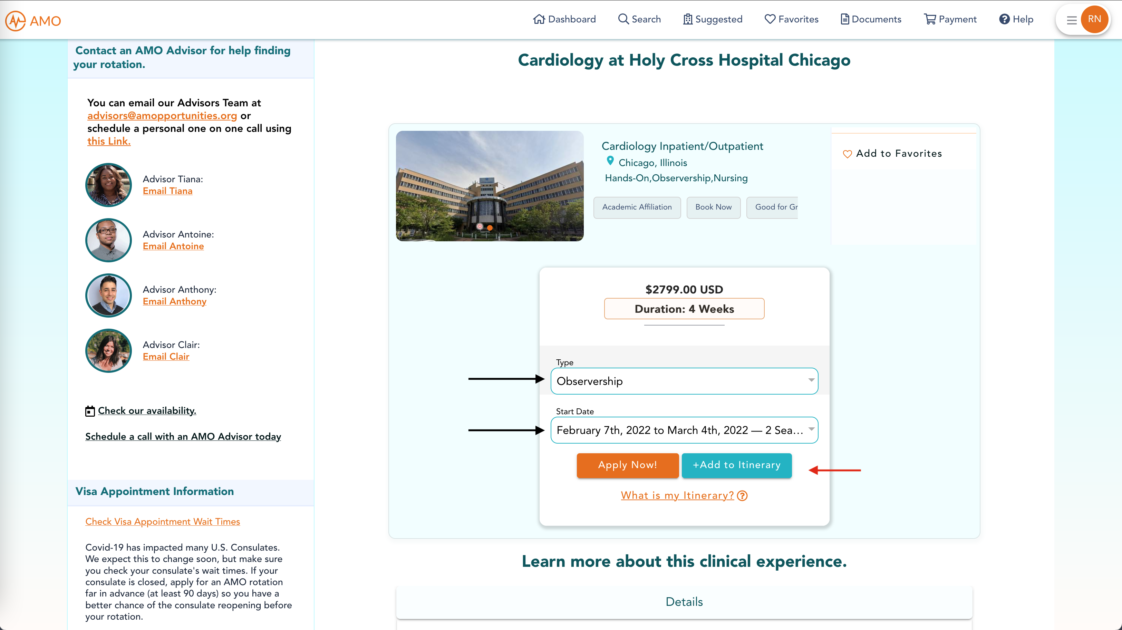 Instead of directly applying to the program, click the blue "+Add to Itinerary" button indicated above by the red arrow. After clicking this button, your screen will show a pop-up window confirming that the program has been added to your itinerary and you will be automatically redirected to your itinerary page, shown below.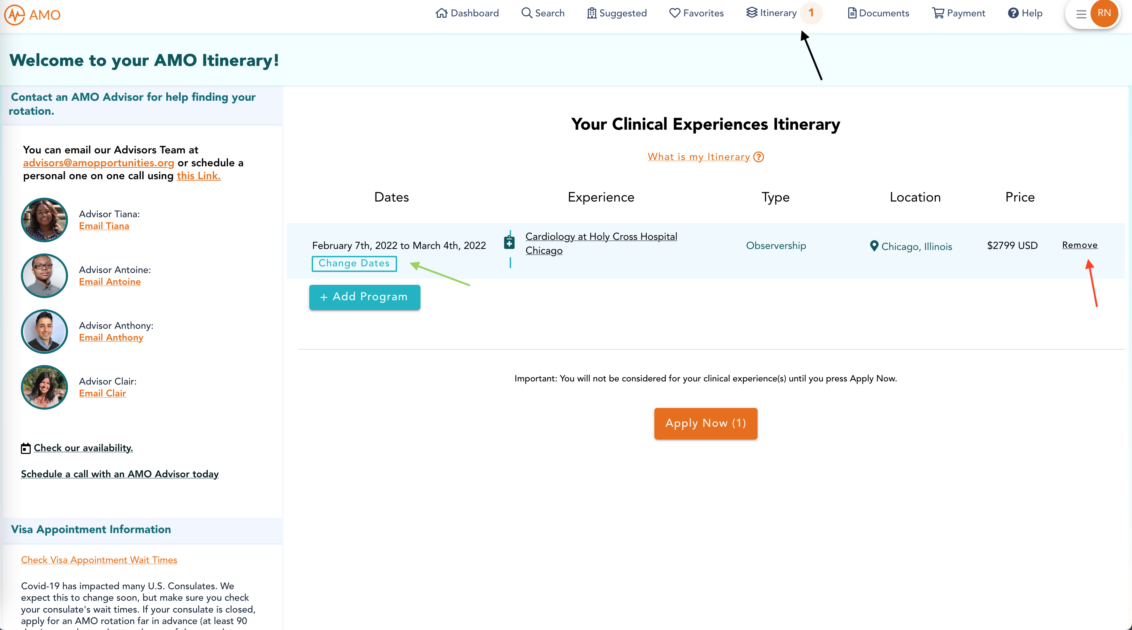 From the itinerary screen, you will have a few options. You can change your dates using the "Change Dates" button indicated by the green arrow above or you can remove a program to the right of the program price (indicated by the red arrow above). You can also apply to the programs in your itinerary with the orange "Apply Now" button at the bottom of the itinerary (note that the number on this button will reflect the number of programs on your itinerary).
Because we only have one program in our example itinerary, we will add another program using the blue "+Add Program" button beneath the Date column. This will take you back to the main search page, where you can use filters to find the next program to which you want to apply. As you navigate away from the itinerary page, you will always be able to return using the "Itinerary" tab at the top of the page (indicated by the black arrow in the above image).
For our second program, let's add IM/Gastroenterology in Orange, California, as shown below.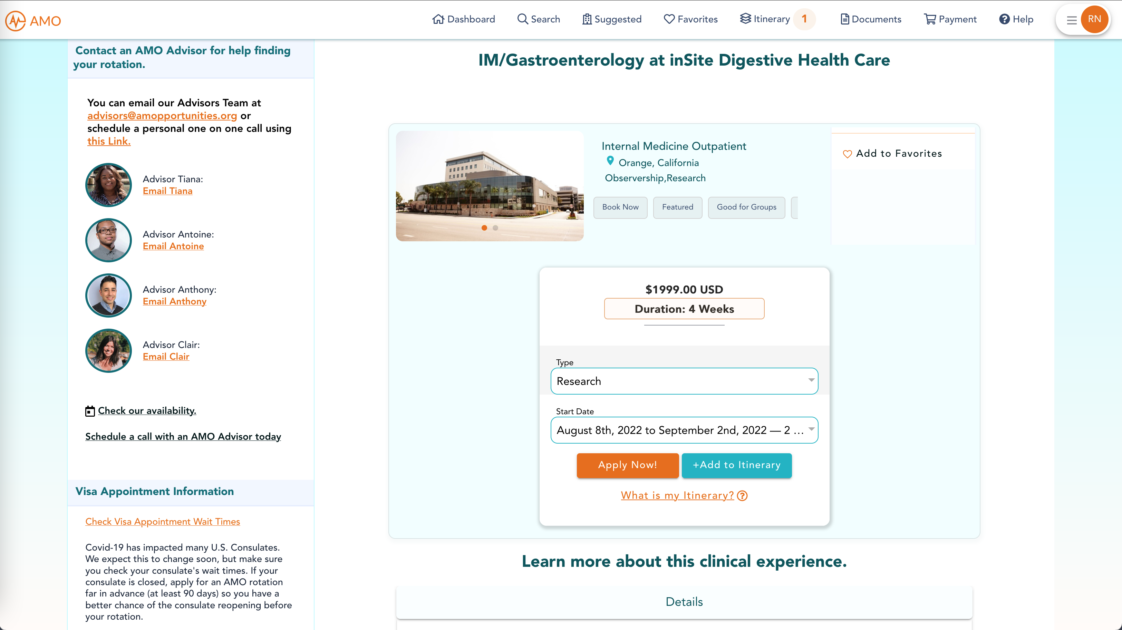 For this program, we have selected a Research experience type and a start date of August 8, 2022. You can add back-to-back experiences to your itinerary or you can spread them throughout the year. The programs will be reserved for you. In this case, if we pay for our itinerary in November 2021, our seats for both our February 2022 rotation and August 2022 rotation will be reserved in November 2021.
Once the experience type and start date are selected for the next program you wish to add to your itinerary, simply hit the "+Add to Itinerary" button like before. If you hit the "Apply Now" button from this screen, you will only apply for the current program and not your full itinerary.
After adding to your itinerary, you will again be taken to the itinerary screen, but now the newest program will be added in chronological order as shown below.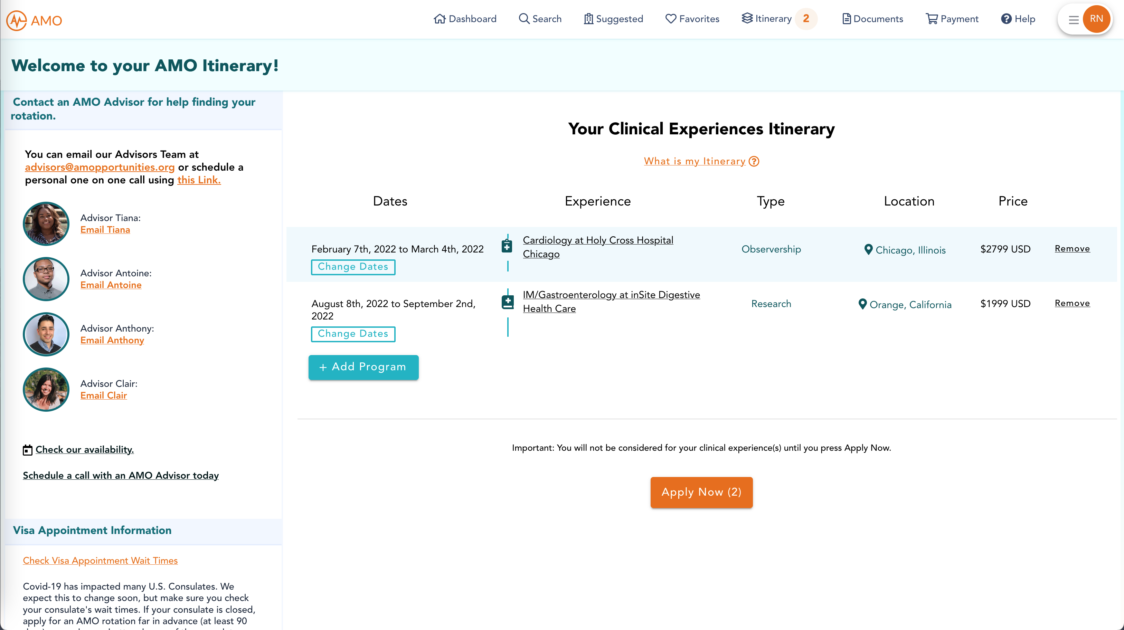 Finalize your Itinerary and Rotate!
Once your itinerary is set, you can click the "Apply Now" button to apply to all the programs in your itinerary simultaneously. After applying, you will be able to manage all the programs in your itinerary in one location. Upload documents to make payments without having to navigate between multiple applications.
---
Ready to book your 2022 rotations? Explore clinical experiences and take advantage of the itinerary feature to reserve your spot now!