Recent USMLE changes have skewed residency application times for many. If you're an early year IMG or haven't begun preparing your residency application yet, we recommend you use this article as a framework moving forward.
Below you'll find information on how residency application preparation should be different going forward, including how many months you should prepare for the United States Medical Licensing Examination, Occupational English Test, and getting both clinical skills and an ECFMG certification. At the end, you'll also find a detailed timeline that puts it all together.
Depending on your individual progress or situation, some recommendations may not apply o you—and that's okay. This information was created by Dr. Waqas Nawaz, an IMG and gastroenterologist and moderator of the King Edward USMLE Forum, for the sole purpose of helping medical trainees become U.S. physicians with greater ease.
Spend Less Time Studying for the USMLE
With the USMLE Step 1 grading scale moving to pass/fail in the next year, residency applicants should not spend as much time preparing for this step. Eight months of preparation is no longer recommend. Instead, medical trainees should feel comfortable studying for just four or five months.
This is especially great for IMG and FMG applicants as they can prepare for the USMLE Step 1 during their major house-job or internships. There is less pressure to receive a high score and, therefore, more room to multitask.
Use the Extra Time to Prepare for Step 2 CK
Before the USMLE changes, it was recommended that medical trainees spend four months preparing for the Step 2 CK. Now it's recommended that they prepare for around six months.  This additional time will help applicants to get higher test scores which can help them stand out to residency programs as pass/fail scores for the USMLE Step 1 will level the playing field. The time you save from preparing less for the USMLE Step 1 can be allocated to this Step.
Take the USMLE Step 3 Before Applying
Before these USMLE changes, many medical trainees were advised to wait until residency to take the USMLE Step 3. Only those who really wanted to stand out or needed to overcome other low Step scores took it ahead of time. Now, things have changed. For medical trainees to ensure they can obtain a visa and stand out to residency programs, the USMLE Step 3 should be passed. To take this portion of the exam, individuals must be ECFMG certified—which requires passing the OET and one of six pathways that have replaced the USMLE Step 2 CS.
Create a Timeline and Stick to It
Below is an example of an ideal timeline for medical trainees looking to apply for the 2024 Match. Keep in mind that applications for this Match cycle open in September of 2023. In short, it's recommended that you begin the USMLE and clinical skills at least two years before submitting your residency application. This recommendation is specifically for those who haven't completed any of the requirements. If you're already completed some of them, your remaining timeline may be short. If you're still in school and don't have enough time to prioritize the USMLE, OET, and clinical training, your timeline may be longer.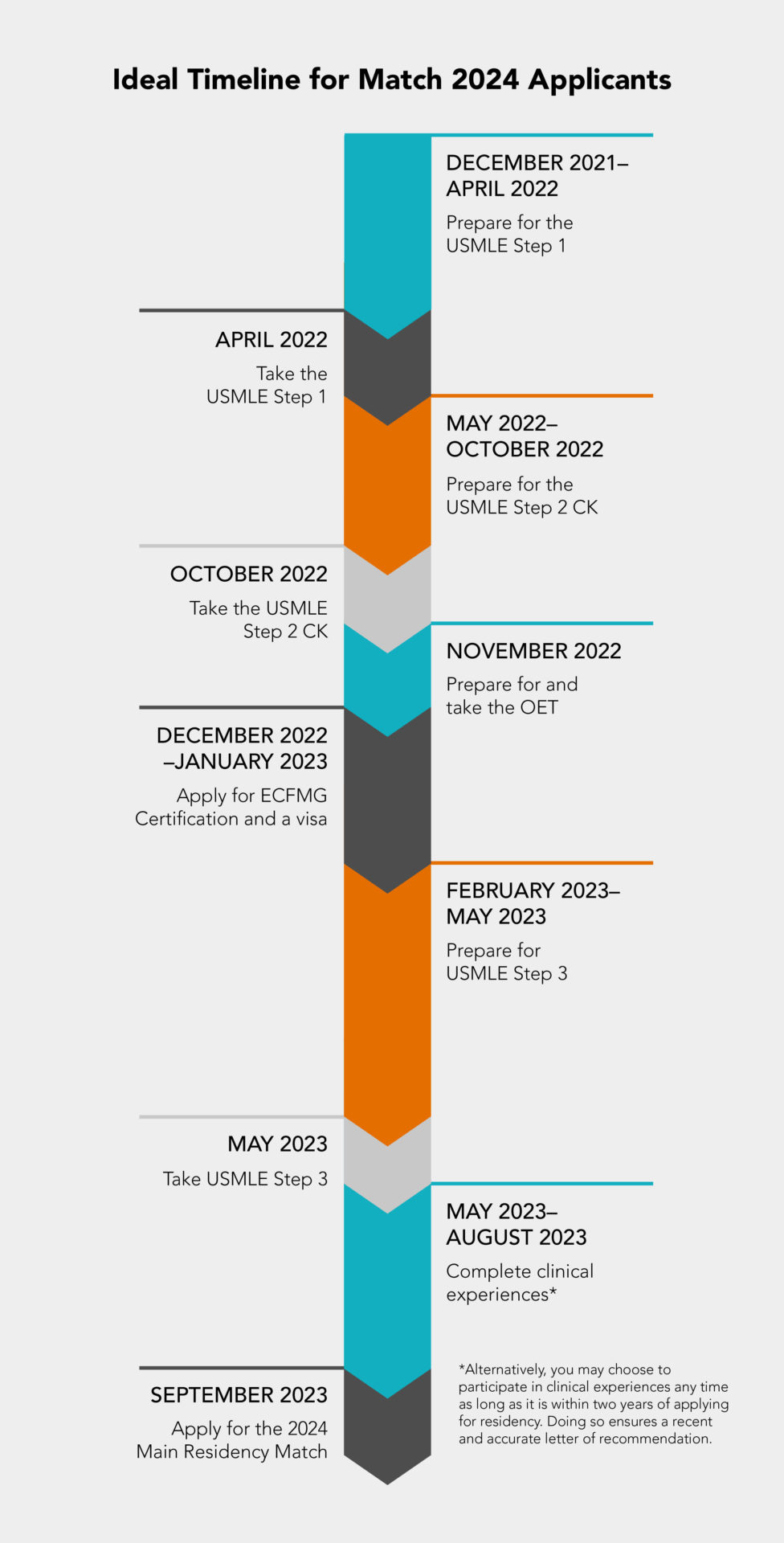 Can we make a final recommendation? Start making progress as soon as possible—you'll be glad you did! Below are some tips for proactively preparing.
For applicants who don't want to wait until graduation to begin preparing, it is even easier now. They can take Step 1 during their clinical years so that they are done with the first step of the application before graduation. Those who want to make even more progress in advance may spend their final year of medical school preparing for the USMLE Step 2 CK—then they can take it immediately after their final year professional exam.
Being proactive and completing some of these steps in school will allow applicants to focus on the USMLE Step 3 and clinical training should they prefer U.S. medical residency to a house job.
Still, applicants may want to play it safe. By completing a house job or country-specific internship applicants have a fall back in the event that they do not match into residency.  With their house job or internship complete, the individual may elect to continue their graduate medical education in their home country.
---
Jumpstart your residency application by getting clinical experience—and letters of recommendation—early!
Create an account and explore rotations for early year students, clinical-year students, and graduates!