2021 brought clearer direction to the pandemic following the uncertainty of 2020. It even brought a little bit of hope with multiple vaccines introduced, travel restrictions eased, and now kids as young as 5 able to get a vaccine–helping ease the burden on both schools and parents.
This sense hope was evident in the world of medical education, too. AMOpportunities hosted a record 1036 medical trainees in 2021! While we saw an increase in our in-person rotations following a drop in 2020, our virtual rotations–first introduced in May of last year–also remained popular among our visitors.
Check out more stats on our 2021 visitors below. Learn where they come from, what their interests are, and more.
Make your mark on our 2022 Year in Review! Reserve your clinical experience and join over 3,500 visitors who found quality clinical experiences through AMO.
---
Education
Top Schools 
An AMO clinical experience lets trainees put classroom knowledge to the test in real-world medical settings. In 2021, trainees came from top universities and colleges from around the globe. Here are the top ten schools represented in the past year:
Poznan University of Medical Sciences (Poland) 
Universidad Autonoma de Guadalajara Facultad de Medicina Guadalajara (Guadalajara) 
Royal College of Surgeons in Ireland, School of Medicine (Ireland) 
Jagiellonian University Medical College (Poland) 
Royal College of Surgeons in Ireland – Medical University of Bahrain (Bahrain) 
Des Moines University College of Osteopathic Medicine (United States) 
Universidad Autonoma de Baja California Facultad de Medicina Mexicali (Mexico)

 

Lekarska Fakulta 1. (Czech Republic) 
University of Jordan Faculty of Medicine (Jordan) 
Pontificia Universidad Catolica del Ecuador Facultad de Medicina (Ecuador)

 
Academic Status
From pre-med shadowing experiences to hands-on clinical rotations, AMO's clinical experiences work for medical trainees at all stages of their medical education journey. Here's the breakdown of our 2021 medical trainees by academic standing: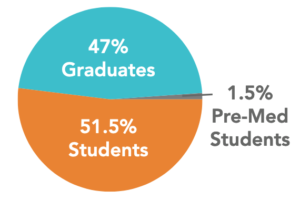 Demographics
Gender
The following is a breakdown of how our 2021 visitors identify. We of course also welcome visitors who identify as non-binary.

Top Countries
This past year, trainees visited AMO from 93 countries–that's over 47% of the world! Here are the top 10 countries and the number of visitors from each:

United States – 246
India – 71
Mexico – 59
Canada – 40
Colombia – 21
Ireland – 17
Puerto Rico – 14
Peru – 14
Poland -13
Pakistan – 13
Rotation Preferences
Top Specialties
AMO has clinical experiences in over 70 specialties and subspecialties. In 2021, these were the six most popular by the total percentage of reserved experiences:

Most Popular Programs
---
Want to read more about our 2021 visitor statistics? Check out the full breakdown in our 2021 Year in Review!