Today we're excited to unveil our mural at A.N. Pritzker School in the Wicker Park neighborhood of Chicago. We've been working with We All Live Here—a Chicago-based organization that creates art around the city—for months to create something that embodies diversity, educational equity and acceptance. This project is important to us as it showcases the values we hold most important to children that will see it every day and hopefully become inspired themselves.
"We believe in a community that supports each other," says Kyle Swinsky, CEO, AMOpportunities. "We believe in the importance of diversity and promote it however and whenever we can. This is why working with We All Live Here is so important to us. This mural is a symbol to children of the importance of acceptance, diversity and respect in all communities."
The mural was unveiled in conjunction with an art event at the school. Students, their family, AMO employees and the surrounding community were invited to create their own artwork at the foot of the mural. We all worked together under a sign of diversity—an inspiring sight to be sure.
"We're so excited to unveil this mural to our students, their families, and the surrounding community," says Dr. Joenile Albert-Reese, principal at Pritzker Elementary School. "Our students now and far into the future will be able to walk past something every day that embodies acceptance, inclusion, diversity, and creativity—values we embrace and promote within our walls and outside our doors."
We All Live Here was founded by Rich Alapack in 2015 as a way to promote inclusivity, equality and acceptance through art and community projects. He has created more than 100 murals on schools across Chicago and has also worked with companies such as Apple to spread messages of positivity.
The story of our meeting with Rich is fortuitous. We were both at a reception for the Chicago Inno awards in October 2018. Our team and him found ourselves on the same couch and started chatting. Numbers were exchanged.
That small interaction led to this larger project—one we're proud of. It's something that will last in the Chicago community forever and
"I was thrilled and honored to partner with AMOpportunities." says Rich Alapack, founder of We All Live Here. "Their idea to bring foreign doctors to do their residencies in American hospitals that have staff shortages has so many positive benefits and couldn't be any more in line with we all live here. The fact that we got to bring a new type of project to Pritzker featuring positive and inclusive words suggested by Pritzker students is just icing on the cake."
You can see more photos of the unveiling and the work it took to create the project on our Instagram page.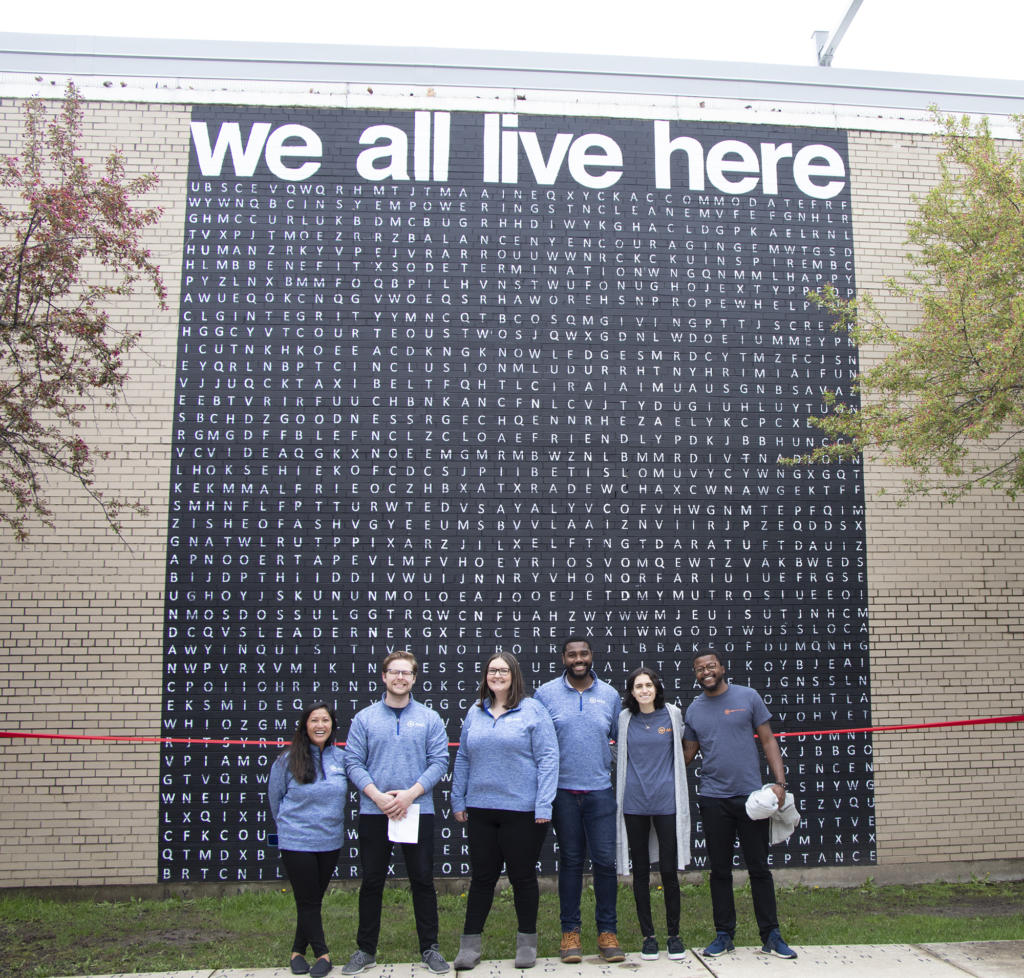 If this message inspires you and you're an international medical student or graduate, we encourage you to apply to one of our clinical rotations. We're constantly spreading this message in everything we do and want you to be part of that. And, if you visit Chicago, you can see the mural for yourself.