2020 was unexpected in every way. The challenges presented by COVID-19–specifically travel restrictions, healthcare fatigue, and social distancing mandates–inspired our team to think outside of the box, helping medical trainees globally to secure the clinical training they needed.
During 2020 we had 444 visitors! Many elected to participate in virtual clinical experiences—which launched in May 2020. Others rotated in-person at U.S. clinical training sites which offer personal protective equipment to visitors and strict protocols for safety in place.
Below you'll find even more information on our 2020 visitors, their interests, and the experiences they booked.
Want to be part of our 2021 Year in Review? Rotate and join over 3,000 medical trainees who have found value in our clinical training.
Status
We help current medical students, graduates and healthcare professionals earn real-world medical experience.
In 2020 we launched several pre-med shadowing experiences suitable for current undergraduate students enrolled at U.S. colleges and universities. Here's a breakdown of the educational status of visitors from this past year.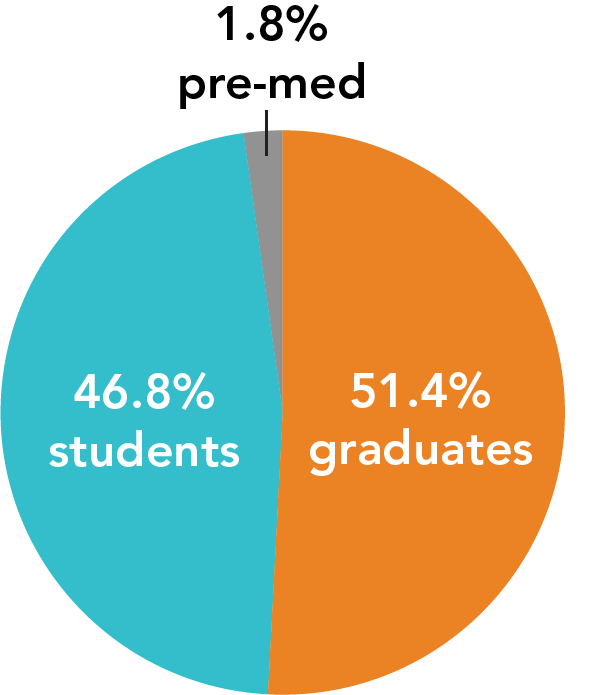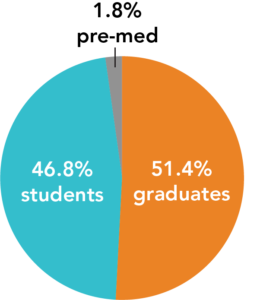 Schools
Each year we provide experiences to medical students and graduates who train at hundreds of insitutions around the world.
This year we recieved the most visitors from the following 10 schools.
Royal College of Surgeons, Ireland School of Medicine (Ireland)

Poznan University of Medical Sciences (Poland)

Alfaisal University College of Medicine (Saudi Arabia)

Jagiellonian University Medical College (Poland)

University of Jordan Faculty of Medicine (Jordan)

Trinity College Dublin School of Medicine (Ireland)

Jubilee Mission Medical College and Research Institute (India)

Universidad Central del Ecuador Facultad de Ciencias Médicas (Ecuador)

University of Karlovy (Czech Republic)

Sulaiman Alrajhi College of Medicine (Saudi Arabia)
Home Country
This past year, visitors from 89 countries reserved clinical experiences with us. Here the countries we recieved the most visitors from.
1. India
2. United States
3. Saudi Arabia
4. Pakistan
5. Brazil
6. Egypt
7. Ecuador
8.Canada
9. Nigeria
10. Mexico
11. Colombia
12. Korea
13. Turkey
14. Vietnam
15. Jordan
16. Peru
17. Indonesia
18. China
19. Iran
20. Thailand
Gender
The following is a breakdown of the genders our visitors identify as. We also welcome visitors who identify an non-binary genders.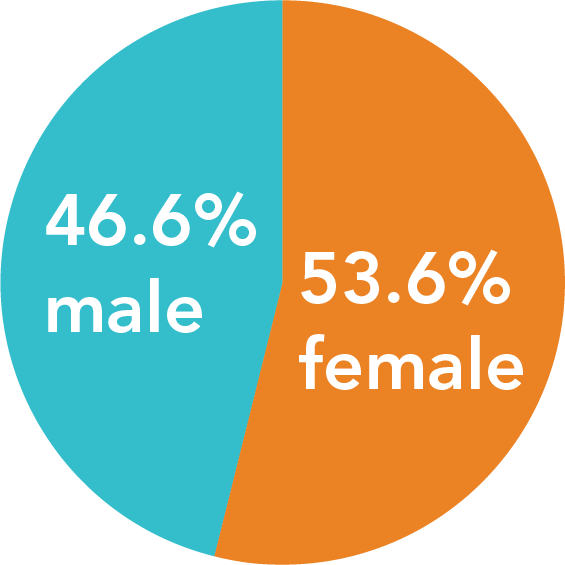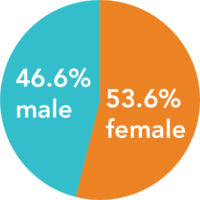 Clinical Experiences
The following experiences were the most booked of the year. We launched our virtual experiences in 2020, and already they are some of the most popular.
Specialites
We offer clinical experiences in 70+ specialties and subspecialties. The following specialties were the most reserved by 2020 visitors.
Internal Medicine

Cardiology

Pediatrics

Family Medicine

Neurology

Obstetrics & Gynecology

General Surgery

Plastic Surgery

Pathology

Psychiatry