With the new year underway, we take a moment to look back on last year in our 2022 Year-in-Review! Last year, a record number of trainees rotated with AMOpportunities and we worked with more schools to expand clinical training opportunities to their students.
In 2022, there was also a return to interest in traveling. Last year, trainees booked more in-person rotations in 2022 than there were combined in-person and virtual rotation bookings in 2021.
Check out some of last year's trainee statistics below, and find the full breakdown in our 2022 Year-In-Review.
Total Trainees
In 2022, 1,418 trainees booked rotations with AMO! Of those rotations, 1,123 booked in-person rotations, while 295 trainees gained skills in telehealth through virtual rotations.
Out of all 1,418 trainees, 56 percent identify as female, 43 percent identify as male, and 1 percent of trainees identify as non-binary.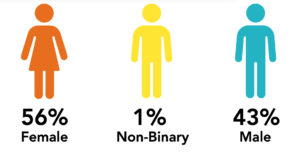 Together, trainees represented 102 countries–that's more than half the world represented by AMO trainees! Here are the ten countries with the most AMO trainees in 2022:
United States – 310 trainees
India – 109
Mexico – 63
Canada – 50
Brazil – 46
Peru -33
Pakistan – 29
UK -27
Ecuador -22
China – 21
Education
Of all 2022 trainees, 854 were medical students, 543 were medical graduates, and 16 were U.S. pre-med students. The universities below are the top ten universities AMO trainees came from in 2022. Is your school on the list?
1. Universidad Autonoma de Guadalajara Facultad de Medicina Guadalajara
2. Des Moines University College of Osteopathic Medicine
3. Royal College of Surgeons in Ireland School of Medicine
4. Universidad Autonoma de Baja California Facultad de Medicina Mexicali
5. University College Cork School of Medicine
6. Poznan University of Medical Sciences Center for Medical Education in English
7. Lekarska Fakulta 1
8. Dnipropetrovsk Medical Institute of Traditional and Non-Traditional Medicine
9. Universidad de San Martin de Porres Facultad de Medicina Humana
10. Universidad Peruana de Ciencias Aplicadas (UPC) Escuela de Medicina
Favorite Rotations
AMO offers rotations in over 70 specialties and subspecialties. The specialties that got the most love in 2022 were:
Internal Medicine
Family Medicine
Pediatrics
Neurology
OBGYN
But it was more than just specialties students loved in 2022. They also had their favorite programs. Check out the programs trainees reserved most in 2022:
---
Want to make an impact on our 2023 Year-In-Review? Take the next step toward your next rotation by emailing an AMO advisor at advisors@amopportunities.org or sending a message via WhatsApp to +1-312-241-0640