Residency Match For IMG's
Any medical student or graduate looking to practice medicine in the United States must participate in the National Residency Match Program (NRMP), or "the Match".  Through the Match, residency applicants both from abroad and from the U.S. are matched with a United States residency program. Some programs tend to accept more international medical graduates (IMGs) than others. States with IMG-friendly residency programs are termed "IMG-friendly states."
Roughly half of the IMGs who participated in the 2017 Match were successful in gaining acceptance to a United States residency program. Here is a list of the top IMG-friendly states based on the 2017 Match: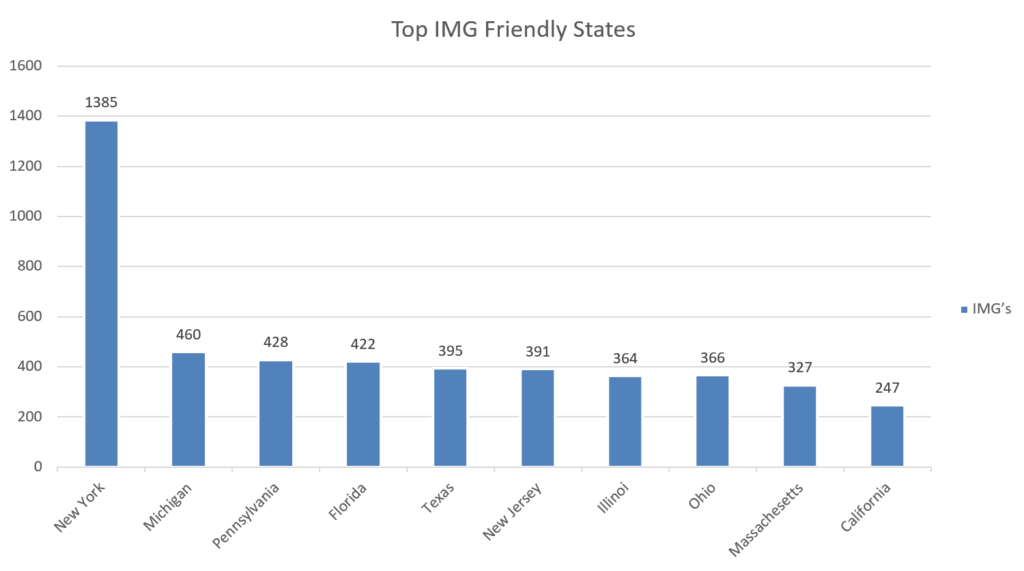 New York (1385 IMGs)
Michigan (460 IMGs)
Pennsylvania (428 IMGs)
Florida (422 IMGs)
Texas (395 IMGs)
New Jersey (391 IMGs)
Ohio (366 IMGs)
Illinois (364 IMGs)
Massachusetts (327 IMGs)
California (247 IMGs)
AMOpportunities has several programs in most of these IMG-friendly states. Completing an AMOpportunities clinical experience at one of these program sites can enrich your residency application and can heightens your chance for being successful should you decide to participate in the Match.
Are you interested in practicing in one of the above state but unsure if you would actually like to live there? A rotation with AMO in one of these states can give you a taste of what it would be like. Click here to explore rotations in there areas!